Good lord, it's nearly Halloween time again.
23 September 2009
No Comment
How exciting!
However, this sucks in terms of costume hunting because girls essentially have 2 choices;
1.) Hooker with props (vampire fangs, animal ears, fairy wings, etc)
2.) Hooker in a uniform (nurse, flight attendant, girl scout)
I always have a hard time finding an outfit that doesn't make me look like a total nerd, which is difficult to do with all the slutty saboteurs running around half dressed. (Bitches, I swear.) One time I was a ninja, which would've been really cool if the stifling face mask had permitted oxygen (and shots) to flow through the fabric of steel. And since it was acquired in the little boy's dept, it was giving me a perpetual wedgie all night. That wasn't so fun.
This year it's time for redemption, I want a costume that is super awesome although I'm conflicted. What I really want to be is Jubilee from Xmen: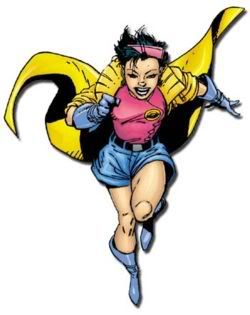 But I still haven't come to terms with her awful color palette (after all, I'm still trying to look cute). And since I really don't have that big of a problem with social conformity, I'll probably just end up as a skank pirate.
See you folks at Scream 5!