AlcoHAWK
3 September 2009
No Comment
This is a super cool gadget and everyone needs one in their glove box: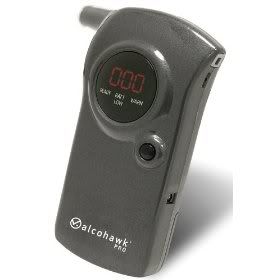 A few weeks ago, I had some friends over for a themed night of "clean up the half bottles of junk alcohol (crap like American Honey whiskey and peach schnapps) so we can restock with newer / better stuff" . After a fairly impressive performance, the evening was drawing to an end with bottles of water being passed around along with…a breathalyzer!
I tried my luck and blew a whooping .24, which totally threw me off because the legal limit is .08 and I was SOBER. And not even the half-slurring, wobbly walking "yeah, I'm ok to drive" sober. Like the, "you people need to get the heck out of my house because I'm tired and painfully aware of how much cleaning needs to be done" sober. I mean, sure I had a few drinks but we were playing Trivial Pursuit for Christ's sake, it just wasn't that kind of crazy night.  I definitely thought I was in driving shape, which is pretty scary when you think about it.
Seems like back in the day, the only people I knew with DUIs were either much older or Korean. It's now become pathetically normal for our peers to break the "Man, I got a DUI last night" news. Think back, it's pretty likely that someone you've dated (or are currently dating) has one, no? (God, I hope so or else that means my friends are LOSERS).
Drinking and driving is, in a way, like having unprotected sex. You know it's wrong but let's face it, you're stupid and you do it anyway. A couple times in, nothing seriously bad happens (with the exception of a case of mild itching and foul odor), you start to get more careless, everything is relatively fine and dandy until ONE DAY you end up knocking up some girl you don't know whether you want to marry or fling down a flight of stairs.
Life is full of tough choices. So make it easier on yourself and always have a DD!
*Note: The breathalizer is a really great, useful tool to keep around and can be bought for around $100 (depending on the model) at most major retailers and online. Cheaper alternatives are also available, but are you really going to nickel and dime your public safety?? Your call, mister!